Your In-Cab Ally
CoPilot Truck's advanced navigation features do the hard work, allowing drivers to do what they do best - drive.
GET STARTED ON YOUR JOURNEY
Accurate, truck-legal routing to reduce the risk of costly bridge strikes and collisions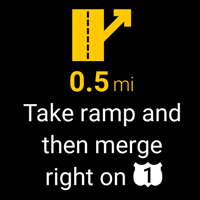 Clear 3D and 2D map views plus Driver Safety View to reduce driver distraction in the cab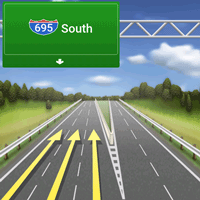 Safely maneuver lane changes with real road signage and lane assist guidance
Real road signage and lane assist guidance for safe maneuvering of lane changes
---
Easy to use, driver-friendly user interface featuring visual and audio guidance
---
Voice-guided, turn-by-turn directions with spoken street names from origin to destination
The Crucial Component: Compliance
Save multiple pre-defined and custom truck routing profiles based on vehicle size/class to ensure compliance to regulations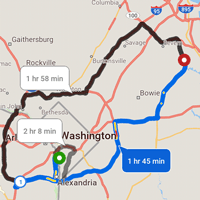 Detour function quickly identifies an alternative truck-legal route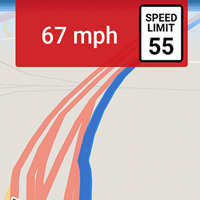 Posted speed limit display and audio alerts notify drivers of speeding
Truck-legal routing powered by industry standard PC*MILER
---
Profile options for the entire fleet with settings for Heavy, Medium and Light Duty vehicles
Be a Fleet Efficiency Expert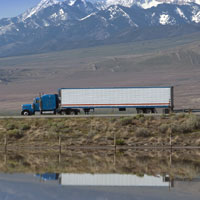 Offline navigation for constant access to reliable routing and maps in out of coverage areas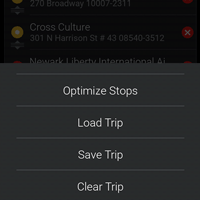 Build single or multiple destination routes and optimize up to 50 stops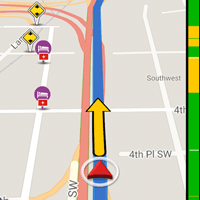 Over five million Places including truck-specific POIs for everything a driver needs on the road
Intuitive user interface requires minimal driver training and new driver on-boarding
---
Seamless integration with Workflow and Dispatch applications to prevent erroneous and costly address entry and driver stress
---
Streamlined route entry by selecting an address, geocode or destination directly on the map
---
Practical and shortest routing options available
Combat your Needs with Customized Value Add-Ons
ActiveTraffic™
Real-time traffic with map displays and accident reports, including incident conditions, and the ability to find a quicker route away from a significant delay
Traffic bar and map to keep you updated of conditions and amount of delay time on-route
Predictive traffic that takes into account road speeds at the specific time of day and day of week
Leveraging INRIX XDTM traffic data to provide extensive and accurate coverage
Learn More
CoPilot Truck HazMat
Load-specific routing for 7 variations of HazMat categories
Learn More
CoPilot Truck Energy
Turn-by-turn, voice-guided directions across one million private oil and gas lease roads and growing
Search and route to oil and gas places including well sites, facilities, and public land survey coordinates.
Automatically account for and adjust to seasonal road bans using PC

*

MILER Avoids and Favors
Web-based oil and gas field mapping powered by Trimble Oil and Gas Services
Learn More
Interested in learning more about our remote configuration tools?
We offer solutions that keep you connected and consistent with the back office.